BRIEF HISTORY
---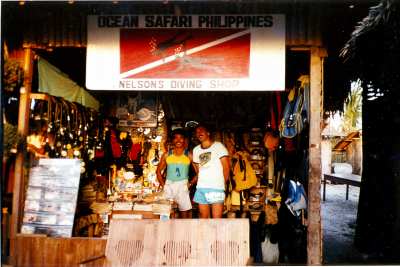 Ocean Safari Philippines pioneered scuba diving in Moalboal in 1979 together with a Dutch owned shop.
Ocean Safari Philippines is run and manage by Nelson Abenido. Nelson, through his industriousness and love of diving is now running the only 100% Filipino owned dive shop in Moalboal.
Nelson, who used to be a subsistence fisherman with a very limited income, started a dive shop with three sets of second hand dive equipment and six scuba tanks. To fill the tanks in the early years, he had to ride the bus to Cebu and have them filled. Back then a trip to Cebu took 5 hours one way.

Back then Nelson recognized, beyond the fish the sea could offer, the unparallel natural beauty of the local waters for diving enthusiasts from near and far. These days he takes pride in offering the reef, the coral and his dive shop for anyone to enjoy.

Over the years and through his devotion to his family and business, he was able to accumulate more and more equipment by trading dives for equipment from his foreign guests and friends.

1982 he became a PADI dive master and 1986 he became a certified PADI dive instructor. Once he became an instructor, he was able to continually upgrade his shop's equipment to where he provides a world class diving experience with world class equipment.

Throughout the inevitable ups and downs of the dive business and aggressive efforts from foreign competition, he has consistently provided a genuine unsurpassed Filipino dive experience from his able and enthusiastic hand.
Currently, Ocean Safari Philippines is better known as Nelson's Dive Shop. Nelson has made more friends around the world than any other Moalboal'ian and that's why his guests keeps coming back - Genuine Filipino friendliness.
Nelson now operates his business with three traditional purpose built dive boats. Nelson's Dive Shop now boasts more than 80 certified scuba tanks, 2 European compressors (Bauer and Astra Schifauer), 15 complete sets of diving equipment and a knowledgeable and friendly staff second to none.
Moalboal used to be just another sleepy Filipino fishing village; fortunately, with Nelson's popular election as a Municipal Councilor in 1992 he has brought infrastructure projects to the Municipality of Moalboal. He as well is chairman of the Committee on Tourism that supports environmental protection and the conservation of the Philippines, specifically the coral reef of Moalboal waters, solid waste management and other tourism related activities.